Table Looms
[ Home | Looms | Kumihimo | Books & Videos | Referrals | Dealers | Price List | FAQ's | Ordering & Contact | About MLC | Our Scrap Book ]
Pricing shown on Price List




Regular Table Looms - Click to see the "Big Pictures" and more product info...

These are the perfect looms for just about any project. The smaller 12" size is ideal for workshops, classrooms, travelers, and as a sampler companion for a large floor loom. The larger 18", 22", and 28" sizes are great for workshops, general use, and any weaver with space limitations. The available folding option can turn any 4 or 8 harness table loom into a compact traveler so you can take your loom anywhere - even with the warp threaded on!!. See the "Standard Features List" below to see why Mountain Loom offers the highest quality loom for your money.
---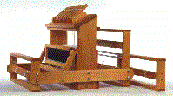 Pique Looms
For the more ambitious weaver who needs more than one warp beam on a small loom...
This loom includes everything on the "Standard Features List" below.
---

Triple Beam Pique Looms
For the really creative and innovative weaver...
---

Loom Stands
Give your loom a stand all its own...
---
Standard Features:
Swinging Beater means that the reed is always perpendicular to the warp. Lets you weave longer before the warp needs to be advanced, and keeps the weft from being beaten "up" or "down" into the cloth.
Large Shed. You'll always have enough shed (2-1/2" +) to get your biggest shuttles through the warp.
Tough laminated ratchets are low-cost yet virtually unbreakable. 32 stops make for precise tension control.
Solid hardwood construction make these looms very sturdy and reliable.
Stainless Steel metal parts throughout.
Bronze bearings on rotating metal parts. The bearings will last a lifetime - after that they are easily replaceable.
Texsolv heddles and loom cord system means easy tie-ups, quiet and lightweight operation.
Beautiful Finish. All looms are expertly sanded and hand-rubbed oil-finished. Beams are polished glassy smooth.
Easy Assembly. All new looms are tested in the shop then knocked-down into 4 components for shipping. No assembly tools are required, and all components are numbered. Looms are easily set up in 10 minutes.
Price includes:

Stainless Steel Reed of your choice of dents per inch
Texsolv Heddles (quantity depends on size and type of loom).
Texsolv loom cord tie-up system, including pegs where required.
Apron Rods
Lease Sticks
Instructions
---
[ Home | Looms | Kumihimo | Books & Videos | Referrals | Dealers | Price List | FAQ's | Ordering & Contact | About MLC | Our Scrap Book ]