Loom Stands for Mountain Table Looms
[ Home | Looms | Kumihimo | Books & Videos | Referrals | Dealers | Price List | FAQ's | Ordering & Contact | About MLC | Our Scrap Book ]
---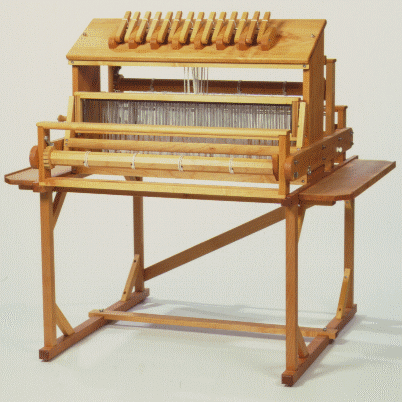 The most popular accessory for a Mountain Loom is our Loom Stand. This stand is available for all of our table looms, and has matching wood and finish. Just the right height for a standard chair, this stand places the bottom of the loom about 24" off the floor (this means breast beam is about 33" off floor). Or tell us your requirements and we'll build the stand to any height - and let us know if wheelchair access is desired.
Very sturdy, NO WIGGLES front to back. The diagonal-square bracing is much more rigid than some folding "X" leg designs we've seen before. Disassemble without tools for easy storage or travel - less than 5 minutes. Optional wing-style shuttle shelves make a handy gathering place for shuttles, pattern books, scissors, etc.
Pricing shown on Price List.
---
[ Home | Looms | Kumihimo | Books & Videos | Referrals | Dealers | Price List | FAQ's | Ordering & Contact | About MLC | Our Scrap Book ]